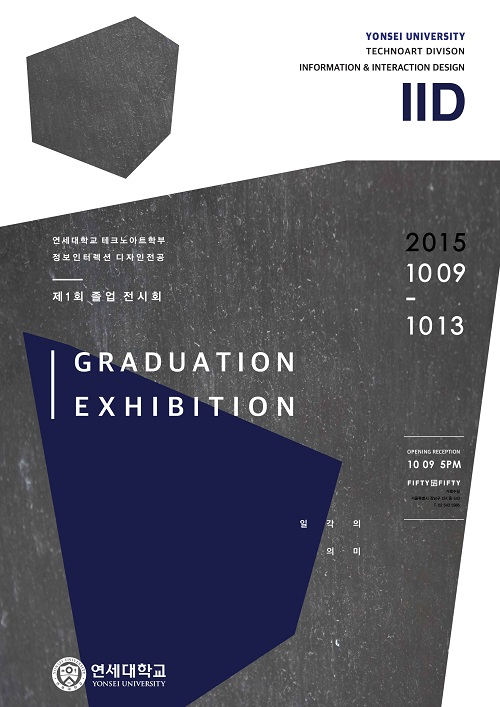 UIC's Information and Interaction Design 1st Graduation Exhibition Opens with Great Success
First Graduating Class of Information and Interaction Design Major (Techno-Art Division), founded in 2012
On October 9th, an exhibition was held by the first graduating class of Underwood International College's (UIC) Information and Interaction Design (IID) Major. It was held at FIFTY FIFTY, an art gallery located in Garosu-gil, Sinsa-dong, and went on a run until October 13th.
Working on the theme "The Tip of the Iceberg," twelve prospective graduates of the first class of IID showcased their unique talent and interests through a variety of projects at the exhibition. The event was organized with the hope that students realize their vast untapped potential, akin to the unseen enormous portion of an iceberg submerged under water.
Projects on display ranged from information and motion designs to new product and UX (User Experience) designs. Some of the UX design projects featured included ideas for a smart dining table for modern families lacking daily conversation, a Tamagotchi-themed anti-virus program for a more interactive PC maintenance, and a resting area on campus for students to relieve stress. Also on exhibit were visual exploration projects, such as magazine cover designs, and projects encouraging human interaction, such as a board game based on the theme of apology and reconciliation.
The opening ceremony was attended by faculty, students and other guests who congratulated the participants for coming up with meaningful projects. While this year's exhibition was small in size, its success is expected to enjoin future participants to be more creative, and even encourage future exhibitions to be bigger and more ambitious.
IID Major seeks to develop effective information systems and explores new forms of interaction based on a principle of human-centered design in order to foster flexible and creative global leaders in tune with the trends of the society. It is one of the three majors under UIC's Techno Art Division which focuses on future-oriented interdisciplinary approaches to technology, management, and design.
언더우드국제대학 정보ㆍ인터랙션디자인 전공 1회 졸업전시회 성황리 개최
2012년 신설된 테크노아트학부 정보ㆍ인터랙션디자인 전공 첫 졸업생 배출
지난 10월 9일 신사동 가로수길에 위치한 아트 갤러리 FIFTY FIFTY에서 언더우드국제대학 테크노아트학부 소속 정보ㆍ인터랙션디자인 전공(Information and Interaction Design, 이하 IID)의 제 1회 졸업전시회가 열렸다. 2012년 신설된 테크노아트학부(Techno-Art Division, 이하 TAD)는 기술, 경영, 디자인을 아우르는 미래지향적 융합 학부다. 올해 첫 졸업생이 배출되는 테크노아트학부의 IID 전공은 인간 중심의 디자인 원칙에 기반하여 효과적인 정보 체계를 개발하고, 새로운 형태의 인터랙션을 탐색함으로써 시대에 맞는 유연하고 창의적인 글로벌 인재를 양성하고 있다.
'일각의 의미'라는 주제로 개최된 이번 졸업전시회는 IID 1회 입학생 중 졸업을 앞둔 12명의 학생이 자신의 재능과 관심사를 반영한 다양한 작품을 선보인 자리였다. '일각의 의미'는 졸업생들의 잠재력을 함축한 주제로써 빙산의 일각처럼 겉으로 보이는 부분은 작지만, 수면 아래 드러나지 않은 훨씬 큰 잠재력이 내재돼 있음을 비유한 말이다. 12명의 학생 작품으로만 이뤄진 작은 전시지만, 이 출발선으로부터 앞으로 졸업생들이 펼쳐갈 큰 미래가 기대된다는 의미를 담고 있다.
전시된 작품은 정보, 영상 디자인부터 새로운 제품, UX(User Experience) 디자인에 이르기까지 융복합 전공 특성에 걸맞게 다양한 주제를 아울렀다. 대화가 부족한 현대 가족들을 위한 스마트 식탁, 편리한 PC 관리를 위한 다마고치형 백신, 스트레스를 안고 사는 대학생들을 위한 캠퍼스 내 쉼터 등 현대인들을 위해 고안된 UX 디자인 작품이 전시됐다. 또한 잡지 표지 디자인, 패턴북, 영상처럼 시각적 실험을 시도한 작품에서부터 사과와 화해를 주제로 한 보드게임, 디자인 조기 교육 키트 등 실제 참여할 수 있는 작품도 눈에 띄었다.
첫 날 오프닝 행사에는 연세대학교 교수, 재학생 및 여러 관계자가 참여해 졸업생들이 작품으로 기념한 의미 있는 마침표와 새로운 출발을 축하했다. 작품을 전시한 12명의 학생들은 오랜 기간 공들여 준비한 작품을 참석자들에게 설명하는 시간을 가졌다. 언더우드국제대학의 제1회 IID 졸업전시회는 많은 관심과 기대 속에서 10월 9일부터 5일간 진행된 후 13일 마무리되었다.